Product Based Permissions
We've streamlined our user permissions system to make it easier to set up new users correctly
Our new permissions system is split into System User, System Admin, and Organisation Admin categories. Each category is separated by product line, so you can easily choose permissions based on the sensors and services you use.
Some example permissions are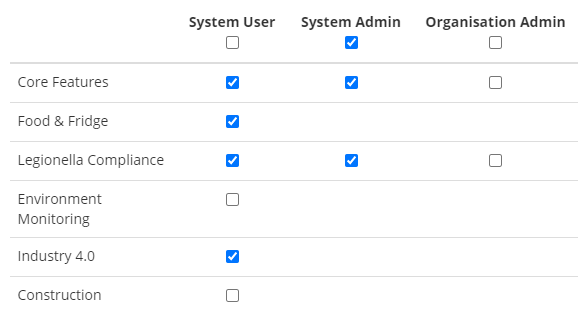 Each product is listed down the left hand side, and is separated into the 3 privilege level categories. Some products only use some of the privilege categories, e.g. there is no System Admin privilege for the Environment Monitoring product.
If you hover over each permission tick box, a full list of the pages/reports it controls will display.

We strongly recommend setting the appropriate Core Features option for all users. This will grant access to the essential parts of Realtime Online, at the appropriate level.
For example, in Core Features a:
System User can view and respond to Notifications,
System Admin can manage the users on a system, add and remove sensors, and configure alarms,
Organisation Admin can create new systems, and manage escalations
This feature is available to Core Features - System Admin users in User Management and User Invitations